So, that was my blog, written in 2007. I wrote it later and later, so when I wrote about Cyprus I was already in the Netherlands, and started working, so I just gave up. So
So, that was my blog, written in 2007. I wrote it later and later, so when I wrote about Cyprus I was already in the Netherlands, and started working, so I just gave up. So please write and post something on every single day on your own adventures 🙂
But what I remember from this trip:
I woke up in the hotel, and walked back to the strategy game store, where they got very enthusiastic about Seigo, and did buy a game! The first that I sold to a shop. At retail price :p
Then I hitchhiked back to the port on Northern Cyprus, Girne/Kyrenia. It was a popular tourist place, and I spent the evening walking around all tourists.
On the next day I took a ferry to Alanya in Turkey. I started walking out of the city and saw another hitchhiker. A truck stopped for me, and I asked the driver if he could take the other one as well. They both spoke Turkish to each other, and I could relax. The truck went to Antalya, a popular beach resort. The other hitchhiker gave me lunch in a restaurant as thanks. Filled bell peppers. Very yummy.
I got a cheap hotel room. Very big, in a scruffy hotel. The next day I walked out of the city, and got another truck for Izmir. The driver stopped at a parking place that was packed with prostitutes. He knew one of them and hugged her, and the two of them went into the forest, while I was waiting in his truck, sometimes getting questions from the other prostitutes, but I had like ten different reasons to not enter the forest with one of them.
The driver came back, and I asked if it was "guzel", and he said no. He stopped outside Izmir in the middle of the night, and started talking with other truck drivers if anyone would enter the city, but no one did. So they ordered a taxi for me. The taxi ride was probably as expensive as a regular bus ticket would have been from Antalya to Izmir :p In Izmir I met Murat, a friend I found on boardgamegeek, and then met in Ankara. I got my own room, and we spent some days, talking about his future board game, about my second game that he drew the graphics for. We spent the days roaming the bazars, drunk tea, smoked water pipe and had a good time.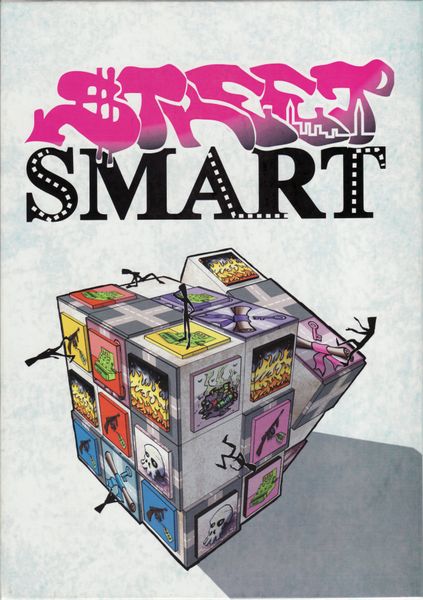 I then started walking out of the city to hitchhike to Cesme, on the coast. I found an onramp with very few cars on it, and decided to try the highway itself, hoping that no police would come. But as soon as I raised my thumb, a police car showed up and stopped. I started playing "stupid tourist", but the police just asked "where are you going" and I said "Cesme" and he said "me too, jump in". My experience of the Turkish police is rather good 😉
In Cesme I bought a ferry ticket to Chios, a Greek island located nearby. Another guy was also waiting, and I started talking to him. He was from Australia, and was touring Europe. Originally, he was Dutch, and had some relatives in Utrecht, where he had worked in a bar. He recommended the city.
In Chios we got a ferry ticket to Athens, and found a bar where we could play Backgammon, a board game that I suck at. Then we entered the big ferry ship, where we slept on the floor, with the company of his big bottle of vodka.
In Athens I thought we should walk to the touristy area, and ask for "Pavlov's silver shop". Pavlov is my dad's cousin's husband. It felt so medieval to not have more info than that, but Aaron (the Dutch Australian) started complaining, so I called my aunt in Sweden who gave me their numbers. I called, and we took the subway to their place. They have a huge house there, which they built larger and larger. I met my second-cousin Vasilis, that I hadn't seen since he was a little kid. He spoke fluent Gällivaremål, a dialect from the far north of Sweden, as his mother spoke Swedish to him every single day. I admire such parents. If you have small kids, you have to speak your language with them! They won't like it, and they will often reply in the dominant language, but being fluent in yet a language is the biggest present you can give them. He ended up studying art in Stockholm, as you can see here.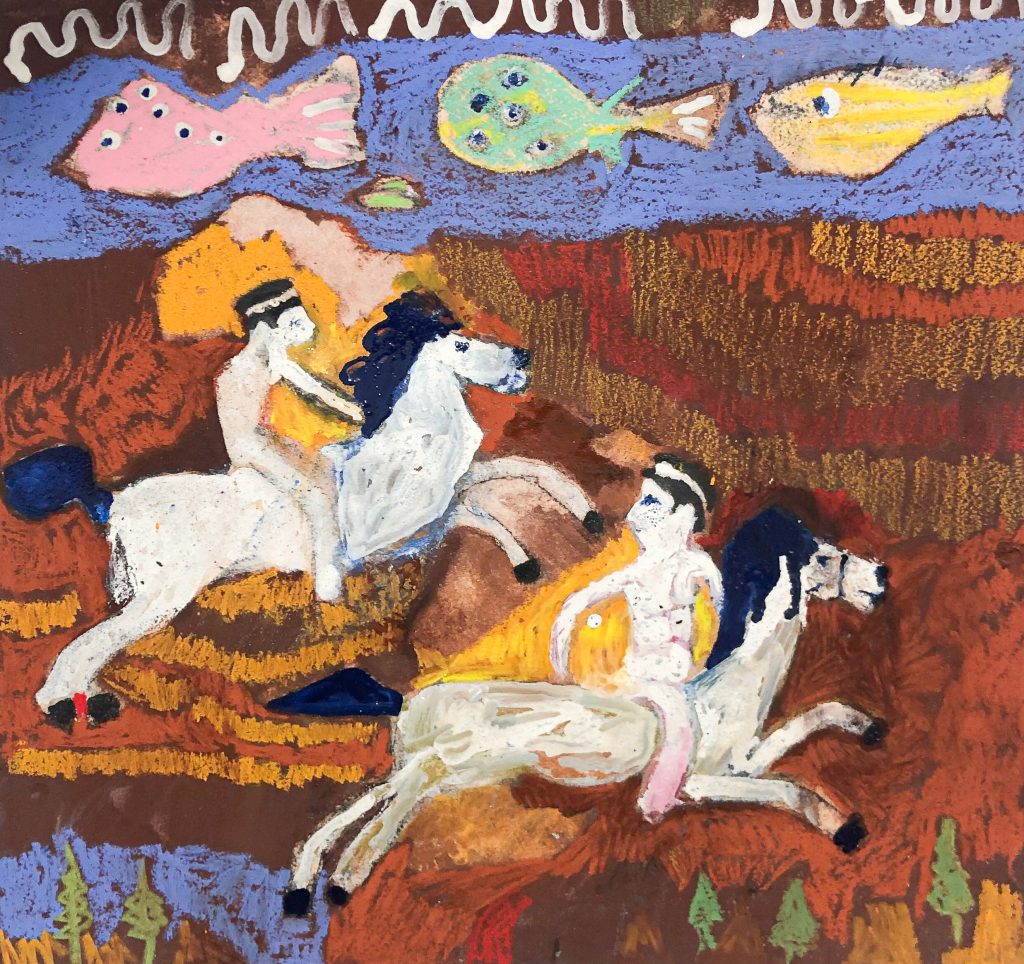 Aaron and I slept there for two nights. While he was experiencing Athens as a tourist, I tried to find their board game store. Pavlov recommended that I'd take the subway to the central station, and then get a taxi from there. But I was so cheap, that I took the subway to the very nearest subway station, and then got a taxi from there, but no taxi would take me, as the distance was too short! In the end I stopped a taxi, opened the door, and told him "taxi drivers in this country suck", and he just laughed and drove away. I found the store after hours of walking (this was before Google maps …), but they weren't interested. I also found a Warhammer store, but they just sold Warhammer.
Then Aaron and I hitchhiked to Igoumenitsa together, to the Greek west coast. It took a hell lot of time. You normally don't stop for two tall guys with tons of luggage. The landscape was beautiful though, and we shared various stories from our adventures, while he drank his vodka when there were no cars. At night we stopped in Meteora, the city famous for its monasteries on cliffs with caves in them: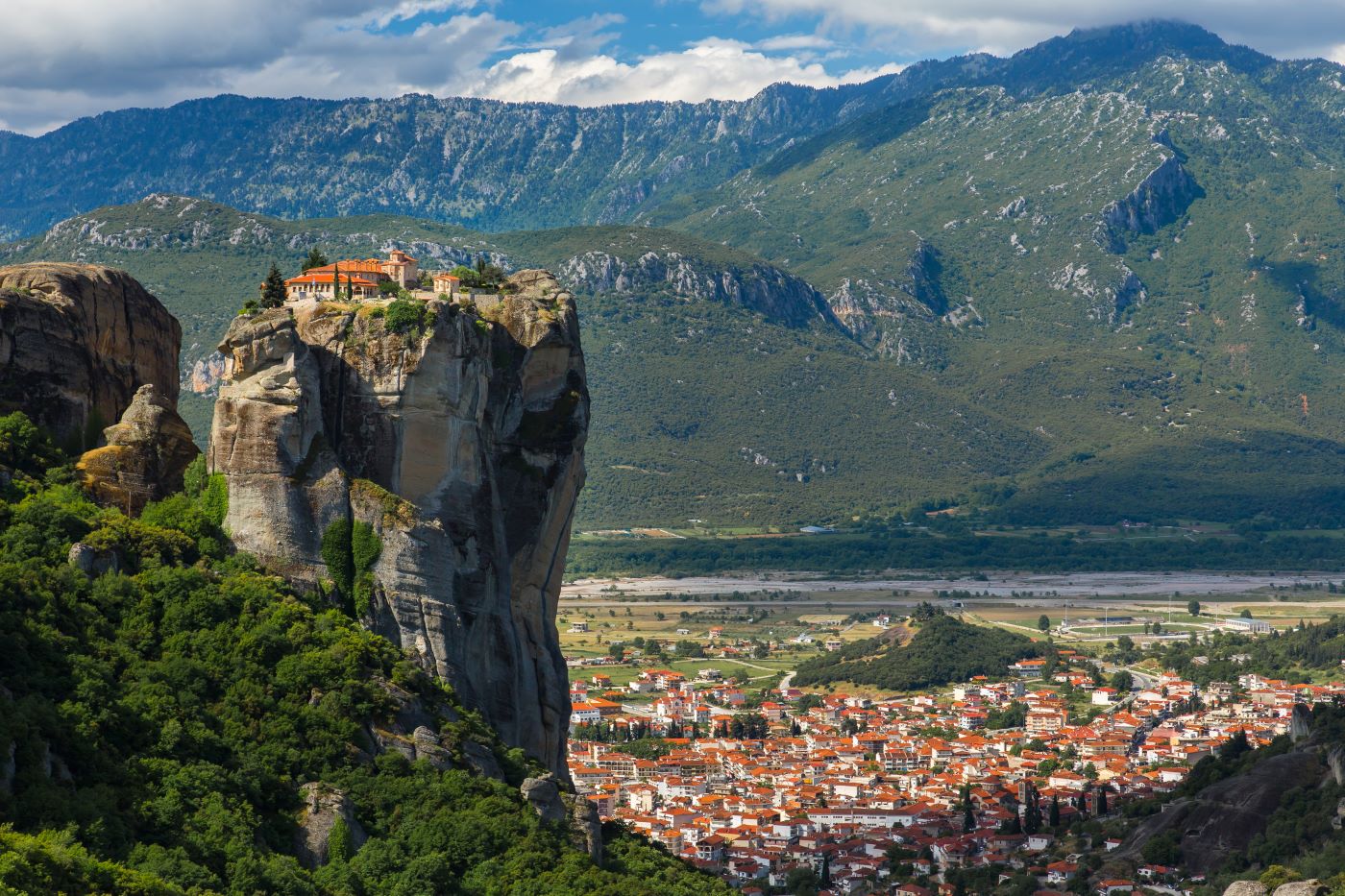 As the connoisseurs we were, we first tried the local beer and ouzu in a number of establishments. Sitting in an outside place, we got a dog. The doggy decided that we were the best humans on the planet, and followed us. We gave it a name, although I don't remember it. We were too cheap for a hotel, so we decided to climb up on one of those rock towers and sleep in one of the caves that we saw. So we, and the dog, entered the forest, and then found a rock tower and started climbing it. It got steep pretty fast and the climbing was very dangerous. Kids, don't do this at home! I blame the alcohol. We took a break, sitting on a small ledger, with the vodka bottle lying on another. It was almost empty. Unfortunately, the dog that had been climbing with us, managed to touch it, and it fell down and crashed down there. Aaron got super angry and screamed the most horrible things to the dog, who fled down the mountain never to be seen again.
We kept on climbing up, and found a cave, but it was leaning outwards, and I didn't want to sleep in there. Imagine that you move while you sleep, and then fall down like a 40 meters. Not my cup of tea :p Unfortunately, it felt too dangerous to climb down, as drunk as we were. But we found a tree up there, and I laid with the tree towards my stomach, and Aaron then laid on the other side of me, like a spoon, and then we entered the enchanted land of a long, drunk sleep. It was quite interesting to wake up the next morning, staring at Greece, with an Australian lying on you like a quilt. We climbed down, and then started hitchhiking.
In Igoumenitsa we got a ferry ticket to Kerkyra/Corfu, and there we hitchhiked to the west side of the island, to a resort called "Pink Palace". Aaron thought that he could get a job there, and I thought, why not take a pause on my board game trip with some chartering? It was the first time in my life that I visited a "charter place" in the Mediterranean, so it felt good to visit the culture of … drunk Americans :p The room felt pricey, but I gave it a two or three nights of my life, just swimming, suntanning, drinking. I got to know an American, Nat. At the age of 26, we were the "oldies" there, while the rest were like 20.
Then I said goodbye to everyone, and hitchhiked back to the main city of the island, and took a ferry to Italy. I slept on the floor, saving myself a 20 euro. In Italy I hitchhiked to Bologna, where I had a game session planned. In Bologna I was too cheap to get a hotel, and just went to a park where tons of people were drinking in the grass. I joined them, with my backpack, and one Italian asked: "where do you sleep?" and I said, "in my sleeping bag", and then he offered to let me sleep in his apartment, which was small, cheap and very central, and which he shared with a female friend.
Later, I was walking around on my own, and found a guy reading a Danish newspaper, so I had to speak some Scandinavian with him. It turned out that he was a couchsurfer, but that his guy in Bologna didn't answer his last message, so he had no idea where to sleep. I brought him to a square where my favourite Italian drank with his friends. He got a bit suspicious, but I tried to explain how I felt this Dane was the most trustworthy guy ever, with my gut feeling, and then he got all friendly and welcoming. It got dense in his flat that night 🙂 (Fun thing is that I met the Dane again, some years later, in Copenhagen, as I was sleeping with another couchsurfer there.)
I visited the university, but didn't get the chance to play. But a guy showed up in a board game store, we played there, but I have no memory of how it went, so obviously not too god.
I hitchhiked towards Slovenia. It was really, really hot. It was in early May, and I was boiling. In Slovenia, I met a guy in Ljubljana. The two of us were the only ones who showed up, and I had nowhere to sleep, so he suggested that we'd just go to his place. His house was PACKED with board games. I haven't seen such a collection, outside the largest board game stores. He said it was the largest collection in Slovenia. Shelves on every wall, games on shelves above the doors etc. We had vegan dinner with his family. I was so tired, but he had no tea or coffee. The house was packed with Indian pictures. I asked him: "you look very inspired by Asia", and he said "well, we are Hare Krishna".
He explained the religion, and said that you had to avoid everything positive. Because "each stick has two sides, so when you pick up the good side, you also pick up the bad side". Like caffeine for example: it's a bit of an "upper", but then you get addicted etc. While he is correct, I also think that time itself has a price. If you have been hitchhiking from Bologna all day, and want to play board games in the evening, then you might want a steamy hot cup of caffeine, despite the risk of addiction. Most people are caffeine-addicts actually. I just boil me a can of tea when I feel that I need to … function. Mmmh, tea, my favourite drug. I asked him: but what about the board games? Won't the bad side of the board game stick fall back on you? Not that I'm sure what the bad side of board games is :p It's less addictive than computer games for example. He looked down, and said, "Yes, I'm afraid this bad side of the stick will come back and hit me sooner or later. Maybe I need to start selling them." But when I look at boardgamegeek now, in 2022, 15 years later, he is still the owner of 218 games, so maybe it takes some time to get off this stick 🙂
We played St Petersburg, and I didn't like it. It's a game where you start collecting victory points towards the end. Like Dominion, but not so fun cards. I then passed out in the generous bed that he offered my tired Swedish body. Ah, a bed. Such an invention. Where's the bad part of that stick?
Then I hitchhiked to Vienna, to visit Willie, an old friend from Japan. I like Austrians, as they – like the Dutch – are fluent in the language of "International English", which very few Englishmen can speak. When someone like Willie speaks, you understand him perfectly. Unlike the English, who should have subtitles when they speak, so that people like me can understand them. Anyway, we played Seigo, with Willie's girlfriend-by-then Judith and some Japanese-speakers.
The day after I had to say goodbye to move on to Bratislava in Slovakia. I played with a mom and her son. She was a teacher in mathematics. I met her on boardgamegeek. I also tried her game, which was fun. (In fact, I liked the prototype better than the finished game that I bought in Essen later). I could sleep there. Thank you very much!

Then I came back to Pardubice. I don't remember what I did there. But it's a city that conquered a place in my heart, burned it like Sweden burned it 374 years ago. A place where I – in the best company ever – produced my first two board games.
I then went to Praha, where Nat from Corfu showed up. He was so curious about hitchhiking, so he wanted to hitchhike to Heidelberg with me. I was like the pro, who showed him the ancient art of staying by the road and lifting the thumb.
We hitchhiked to Heidelberg, where we drank beer with my friend Johan. Nat was so fascinated about the sun not going down despite the clock being ten in the evening. We were like, "Eh, friend, this is Germany. Come to Sweden if you like the sun!" In the summer, that is. The winter is so long and dark that I would never live here if I wasn't born here.
I then hitchhiked to Luxembourg, where I sold a game to a store, who promised they would pay the invoice, but never did. In Praha I also sold a game that I never got the money for. Whatever, as long as it gets played I'm happy. This is hardly a business you get rich of anyway. But I met my sweet old friend from Uppsala, Anna, and my sweet old friend that I met on my very first hitchhiking trip, Isabella, and we had a nice time.
I then hitchhiked towards Leiden, and ended up in Utrecht for the night. I had no idea that I would work and live there later. I drank beer, and experienced the only culture shock that you get between Dutch and Swedes: that they are so direct. While Sweden is large and empty as Siberia, the Dutch are piled upon each other like stones in a pyramid. In Japan, they react by pretending to not see other people, while the Dutch, they SEE you, and they TALK TO you. That's very scary for a Swede, who react more like Japanese in such situations. But it was fun.
Then it got like 3 in the morning, and a homeless man wanted some money from me. I told him: "You get 2 euro if you find me a place that sells beer", and him and I kept walking through Utrecht, and ended up at the central station where they sold beer. Not the coziest place on the planet, but what can you choose from at 4 in the morning. Although these days, after working in Utrecht for a year, I know a place where they sell beer, cocaine and fighting videos until 8 in the morning :p With the meanest-looking bartender I've ever seen.
Anyway, I told him that I would pay him 2 euros per hour, just to keep me company until the morning came, and I could hitchhike to Leiden. It was interesting to listen to his life story. He had been studying programming, Cobol, a language mostly used by large banks, and with very few active programmers out there, who these days earns tons of money, as some kind of computer archaeologists. But he had never sent an email in his life. I found an internet cafe, and promised that I would buy him a sandwich with meat on top if he sent me an email. So he created his first email address. I don't remember if it was randomdrunkinutrecht@hotmail.com, but something like that. He wrote me: "canwegobuythatbreadwithmeatontop", with no spaces :p So I went and bought that bread, and then he ate it, and then he started his morning "job" which was to hand out free newspapers to train passengers, hoping that someone would give him his cash.
Then I gave him 2 euro per hour that we had spent, and hitchhiked to Leiden. I visited a couple that I had found on Couchsurfing, and after the dinner, they were like: "there's the couch". It was a couch! Before then, all people had given me an own room with a bed inside, but now I suddenly had to squeeze in on a small couch. But they were very nice 🙂
Fun thing is that they lived right in front of the house where me and my girlfriend lived for a year! Although I had no idea of it back then. Western Leiden is an area I know well 🙂
Anyway, that was the end of this trip. In October I went to the Essen SPIEL fair and sold Seigo and Streetsmart to random people. The owner of Atol Productions drove to Essen from Pardubice and delivered all the games. Thank you very much!